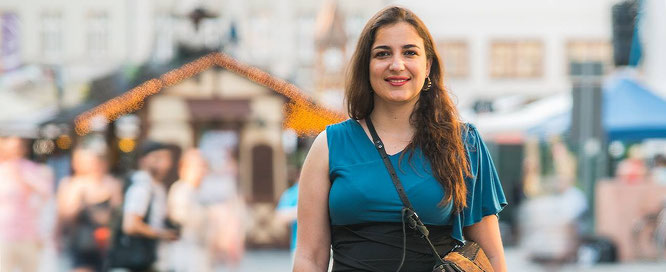 Ana und ich mussten uns früher oder später über den Weg laufen, denn so gesehen haben wir beide das gleiche Ziel: Allen internationalen Neu-Leipzigerin dabei zu helfen, sich hier so zu Hause zu fühlen, wie wir es tun. Deshalb bastel ich am Cafe homeLE und sie an ihrem Blog "The Leipzig Glocal". Im Interview verrät sie mehr zu ihrem Projekt und ihrer Liebe zu LE. IN ENGLISH ONLY!

1. What´s the Leipzig Glocal all about?
The Leipzig Glocal is a blog/web magazine based in Leipzig and written in English for a local and international audience alike, featuring a variety of topics that often mingle the local with the global (thus the "Glocal" name). We offer an insider look into local events and happenings - including information on movies being shown in English and other foreign languages, on expat jobs in Leipzig and the broader region, and the situation with refugees living and just arriving here - as well as local lifestyle (i.e. our music, dating, arts & culture, politics & history and food columns) and a taste of life and topics of interest happening abroad (i.e. our global issues and travel columns). Our purpose is to connect Leipzigers and the local scene with international people and perspectives and thus try to help increase mutual access and understanding, and also provide a venue for people just arriving or with limited knowledge of German or interested in Leipzig from the outside to know what the city has to offer and how and where to find it. Our writers come from several different countries and backgrounds also in terms of profession and interests.
2. Why did you start it?
I started it as my personal blog, as an outlet for my creativity, but asking from the get-go for contributions from friends because I didn't want the blog to be all about me. In the back of my mind was the idea to create a magazine one day, and this seemed like a good way to get started learning the ropes of publishing my own thing online. I was in no rush, but as I started telling people about it and asking them to write posts if they could, interest quickly emerged to work together to try to make this into a channel for international people to find valuable information that I myself and others as expats didn't have access to when we arrived in Leipzig and wish we had.
3. Who are you and why did you choose to live in Leipzig?
I'm a 31-year-old Brazilian-American chick who's doing her PhD at the University of Leipzig. I came here for that reason but gradually fell in love with the city as I discovered it, and want to invest my time in it and contribute to its growth in whatever small way I can beyond the end of my studies, hopefully by continuing my work with The Leipzig Glocal. I want other people to be enamored with Leipzig the way I've become and to want to stay here.
4. How can others support your project?
Others can support The Leipzig Glocal by keeping up with it at http://leipglo.com, subscribing to it via email on the website itself, via Facebook and Twitter (/leipglo) and Instagram (leipglo), and of course, by spreading the word to others who may be interested in reading us too! We also welcome event announcements and story ideas and new contributions from writers.
5. What do you like best about Leipzig?
What I like best about Leipzig is the culture of sharing I've encountered (food, fun, music, couches, ideas), the coolest parties in unexpected places (trailer parks, former factories), and of course, the people I've met and the creative exchanges we've had at open mics, bar hangouts and house parties. I really cherish the friends I've made here, from all over the world, and the way locally-based Germans have welcomed me into their lives and shown interest in mine.
Thank you Ana and all the best for your project!